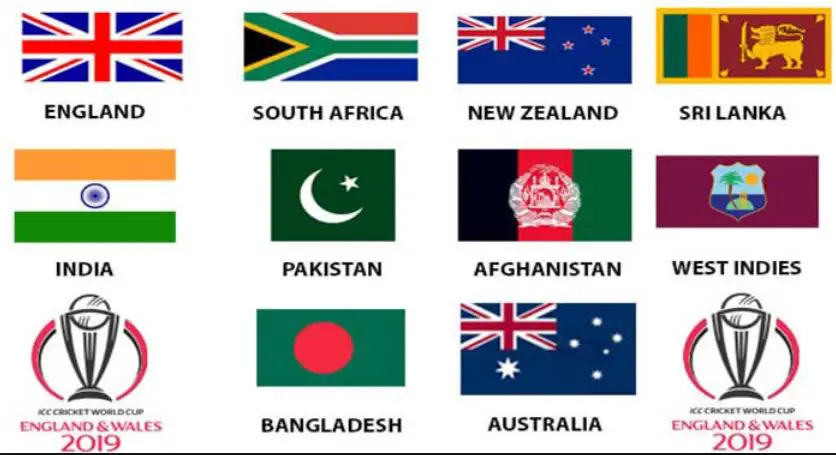 England and Wales are Hosting ICC Cricket World Cup 2019. In 2006, joint Asian bid beat out the Australian bid for 2011 world cup. So Australia was offered the hosting rights for 2015. England and Wales were guaranteed the hosting rights for 2019 only if they withdraw their bid for 2015. Thus England and Wales accepted the offer and eventually won the rights of hosting the ICC cricket world cup 2019 a decade ago. Whereas at the same time England was also granted the rights of hosting the first ever T20 world cup tournament.
CWC 2019 Qualified Teams
ICC decided to shrink the size of 2019 cricket tournament for better competition. Thus the decision of choosing only 10 teams was made. While in 2011 and 2015, there were 14 teams who officially played the tournament.
Qualification standard for ICC cricket world cup 2019 teams is given below:
Out of 10 teams, eight teams were selected automatically based on the top eight ICC ranking of one day international, six months before the tournament.
Top 8 ODI Teams
England
India
New Zealand
South Africa
Australia
Pakistan
Bangladesh
Sri Lanka
Qualification Tournament
Now that only 2 spots were left out of 10 teams of ICC cricket world cup 2019 for the remaining countries and affiliate membership holders. For these two spots the qualification tournament was held in Zimbabwe last year in March, 2018.
The tournament was played between top 4 countries of ICC world cricket league championship in ranking, 4 countries from ICC ODI Ranking (after the top selected seven) and the two were chosen by World Cricket League Division 2 matches.
Out of these ten countries, West Indies and Afghanistan secured the remaining two spots for ICC cricket world cup 2019. So the list of total 10 ICC cricket world cup 2019 qualified teams is given below.
ICC Cricket World Cup 2019 All Teams List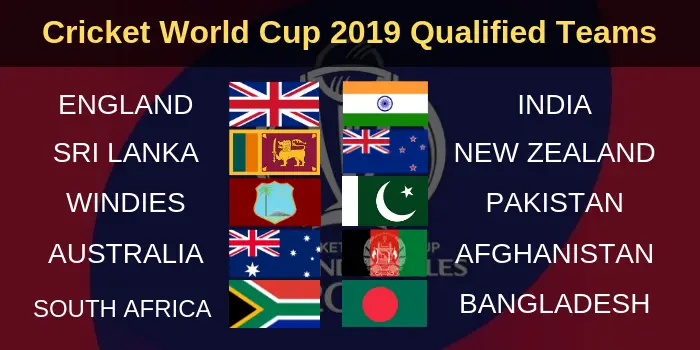 This time the size of ICC cricket world cup 2019 playing teams is reduced to 10 as compared to the 2011 and 2015 world cup where the total teams were 14. So this time the format of the tournament will be simple. The tournament will be played in round robin fashion where each team will get a chance to play 1 match with each other team.
There will be total 45 group matches and the winning teams will be moved to semifinals directly instead of quarter finals as seen in last world cups. Then after two matches between the semifinals qualifying teams the two teams will make up to final and then that final match will decide the destiny of ICC cricket world cup 2019 champions' trophy.