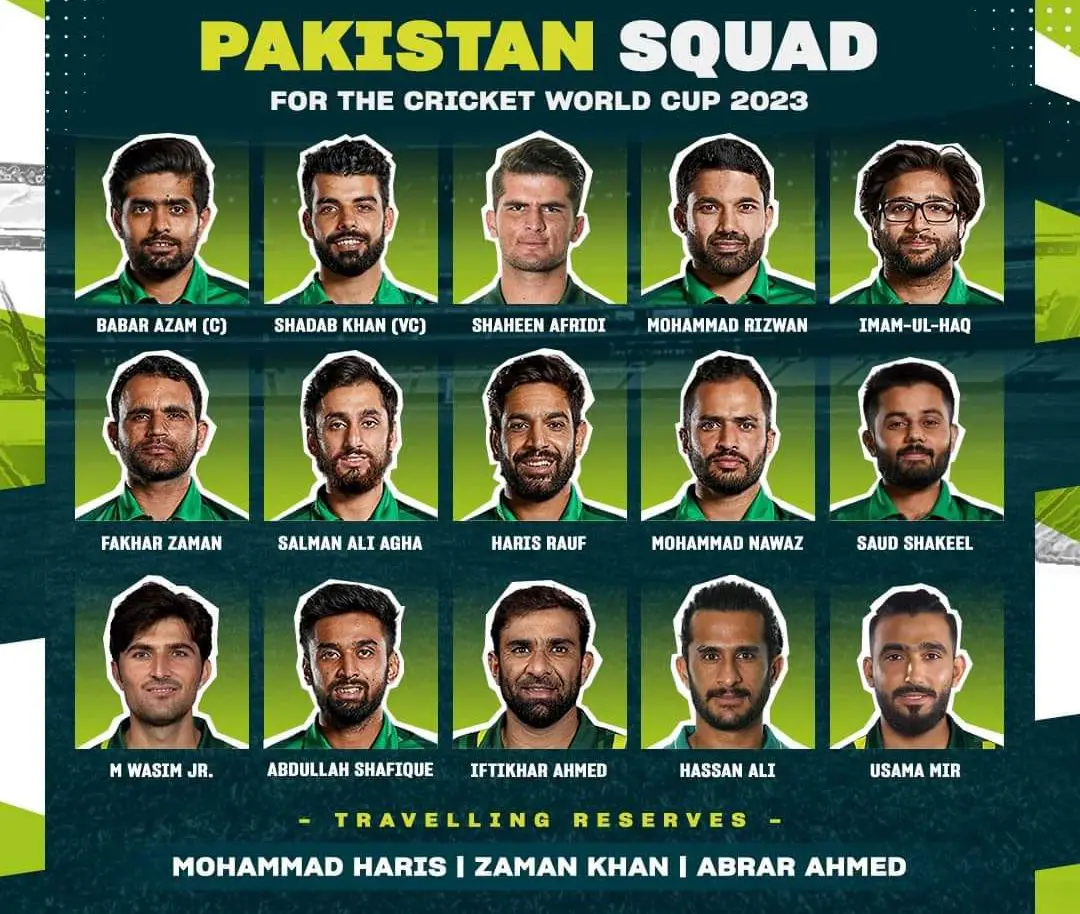 The Cricket World Cup 2023 is right around the corner, and cricket enthusiasts are abuzz with excitement as Pakistan announces its team squad for the tournament. Led by the dynamic Babar Azam, the Pakistan cricket team seems poised to make a strong impact in the One Day International (ODI) format. In this article, we delve into the team's strengths and take a closer look at the individual players who will be representing Pakistan on the international stage.
As cricket fans eagerly anticipate the CWC 2023, Pakistan's team squad has been unveiled, boasting a blend of seasoned veterans and promising newcomers.
Captain: Babar Azam
Vice-Captain: Shadab Khan
Wicket Keeper(s): Mohammad Rizwan & Mohammad Haris
Head Coach: Grant Bradburn
Batting Coach: Andrew Puttick
Bowling Coach: Morné Morkel
Cricket World Cup 2023 Pakistani Squad: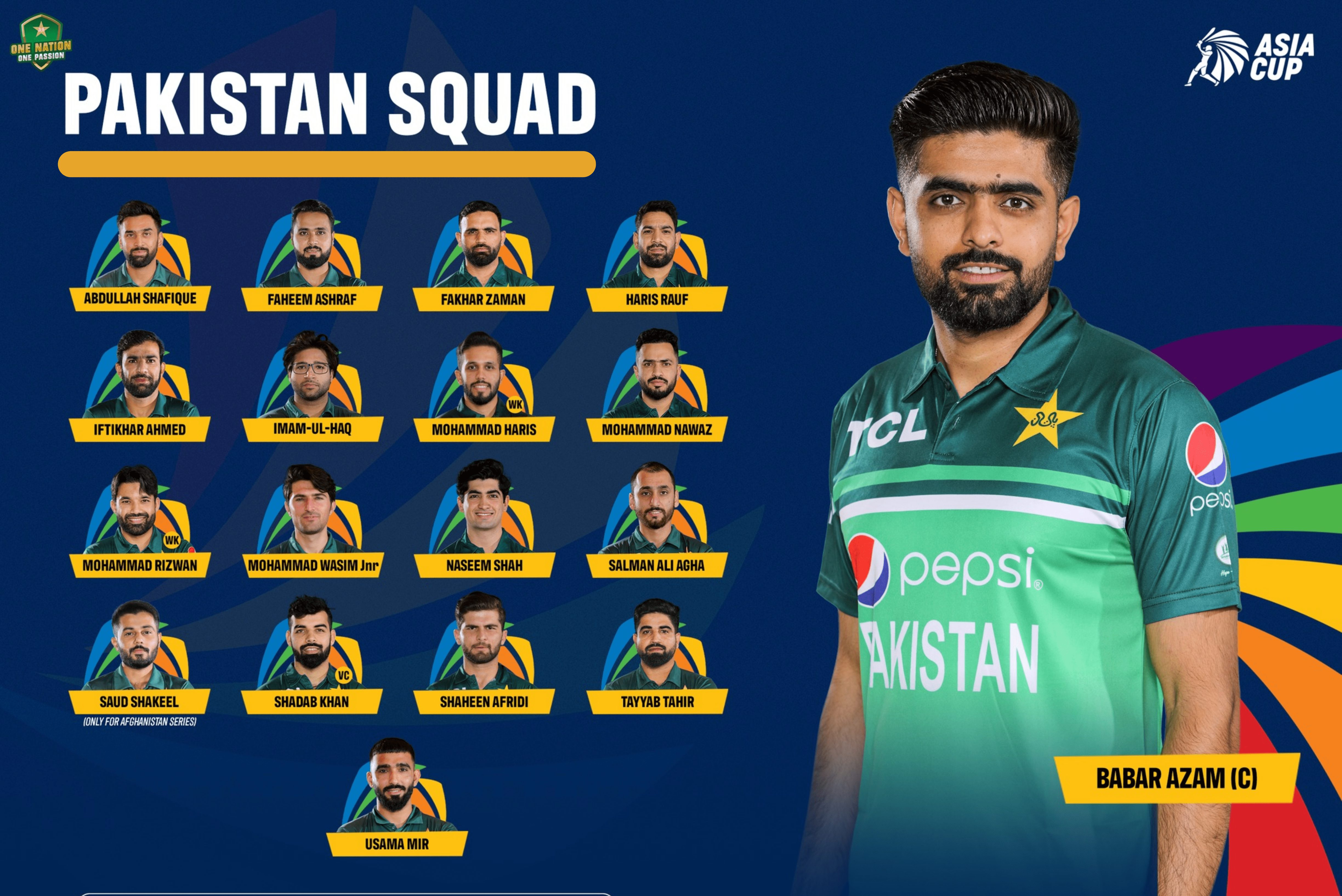 15 Member Squad: Babar Azam (c), Abdullah Shafique, Fakhar Zaman, Imam-ul-Haq, Salman Ali Agha, Iftikhar Ahmed, Tayyab Tahir, Mohammad Rizwan, Mohammad Haris, Shadab Khan, Mohammad Nawaz, Usama Mir, Faheem Ashraf, Haris Rauf, Mohammad Wasim Jnr, Naseem Shah, and Shaheen Afridi.
Team Strengths
The Pakistan cricket team's strengths lie in its balanced composition. With a solid batting line-up, potent all-rounders, and a mix of spin and pace bowlers, the team is equipped to tackle various challenges. The players' diversity and adaptability give Pakistan a competitive edge.
Captain
Babar Azam, the captain of the squad, is a stalwart batsman known for his impeccable timing and elegant strokes. His leadership on and off the field will play a pivotal role in shaping the team's performance. Azam's consistency and ability to anchor the innings make him a vital asset to Pakistan's batting order.
The Batting Line-Up
Pakistan's batting line-up is a blend of experience and youth. Fakhar Zaman and Imam-ul-Haq, established openers, bring stability to the team's early overs. Their partnership has been crucial in setting the foundation for big scores. The middle order, led by Babar Azam, Iftikhar Ahmed, and Mohammad Rizwan, adds depth and dynamism to the line-up.
The Rising Stars
Abdullah Shafique and Mohammad Haris, two emerging talents, have caught the selectors' attention. Shafique's aggressive batting style and Haris's ability to build innings make them exciting prospects for Pakistan's future.
Experience Meets Talent
Fakhar Zaman's explosive batting and Imam-ul-Haq's classical approach provide a perfect balance. Zaman's ability to take on bowlers from the outset complements Imam's steady gameplay.
All-Round Prowess
Iftikhar Ahmed and Mohammad Nawaz contribute as all-rounders, adding depth to both the batting and bowling departments. Their capability to perform under pressure adds a valuable dimension to Pakistan's gameplay.
The Spin Sensation
Shadab Khan's leg-spin offers a potent weapon for Pakistan. His ability to break partnerships and control the middle overs makes him a crucial asset in ODI cricket.
Fast Bowling Firepower
The pace duo of Shaheen Afridi and Haris Rauf inject raw pace and aggression. Afridi's ability to swing the ball and Rauf's sheer speed can rattle any batting line-up.
Emerging Players
Tayyab Tahir, Salman Ali Agha, and Usama Mir are young players to watch out for. Their inclusion showcases Pakistan's commitment to nurturing talent for the future.
The Young Guns
Mohammad Wasim Jnr and Naseem Shah bring youthful enthusiasm to the pace attack. Their ability to surprise batsmen with variations could prove vital in crucial moments.
Expectations and Challenges
As the Pakistan cricket team gears up for the Cricket World Cup 2023, the expectations are high. However, adapting to different conditions and handling pressure situations will be the team's challenges.
Tournament Format and Strategy
The ODI format of the CWC demands a strategic approach. Pakistan's team management must devise a plan that maximizes the strengths of the squad while exploiting opponents' weaknesses.
Conclusion
The Pakistan team squad for the CWC 2023 represents a blend of experience, skill, and potential. Led by Babar Azam, the team is poised to compete fiercely on the international stage. The combination of seasoned campaigners and emerging talents bodes well for Pakistan's cricketing future.