Starting from September 20, Rugby World Cup 2021 Japan is yet another exciting event this year. 20 teams are participating in this event and a total of 48 matches will be played between them in 12 Venues. As RWC 2021 approaches near, fans are looking to buy tickets to support their teams in the rugby matches in Japan. This will be the first time the rugby world cup is taking place in Asia. In this six-week tournament, around 400,000 fans are expected to arrive from different countries so it's really necessary for them to get their tickets for Rugby World Cup Japan 2021 as early as possible.
If you are a Rugby fan and want to witness these exciting and nail-biting matches in real, we have you covered with all the required information and guidelines to get Rugby World Cup 2021 Tickets Booking. Here, you can find all the latest information related to the general public tickets, supporter tour tickets, and hospitality program tickets.
Phase 1: Official Supporter Tour Programme Tickets
Tickets for Supporter Tour went on sale in January 2018. Rugby administration has announced the list of official travel agents (under the "Official Supporter Tours" heading) to get the tickets, make sure you don't buy the rugby world cup 2021 tickets from any other source. Because there is a big risk involved in that, you may not be allowed to enter the venue with an unofficial ticket.
Phase 2: Hospitality Programme Tickets
The hospitality program offers a match ticket, delicious food, beverages, and entertainment to guarantee once in a lifetime experience. Official Hospitality Programme was launched in February 2018 and the following packages were offered:
1823 Lounge
Champions
Webb Ellis Pavilion
Platinum
Diamond Dinner
Gold
Sport
Premium Seat
You can find more information about these packages here. From the given link, you can select the package and then the match and venue, if there is any ticket left you can then buy it from there. Also individual ticket sales for the Japan rugby family, host cities residents and Supporters, Club/Front Row members launched in February 2018 and is now finished.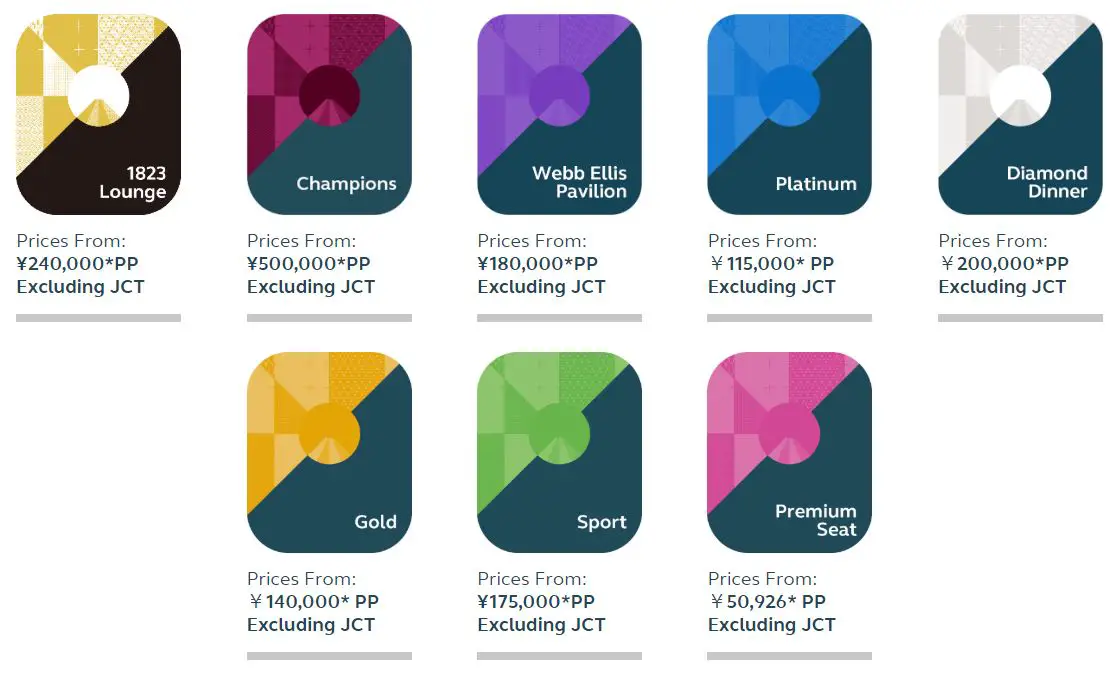 Phase 3: General Public Individual Tickets
The first public ticket sale was a ballot that started on September 19 and continued till November 12, 2018. The 2nd stage was started on January 19, 2021, on a first come first served basis. These stages are completed now.
Can I still get RWC 2021 Japan Tickets Now?
Well, the first 2 stages of public tickets are completed but don't worry there some rugby world cup tickets are yet to be allocated. The third general ticket sale started at 18:00 on Saturday, 18 May 2021, and will be continued till late July 2021 (exact date and time TBD). The fourth general ticket sale is scheduled to start from August 2021 (Exact Date and Time TBD). Make sure you signup on the official ticketing website to get the ticket.
Phase 4: Tickets Resale Programme
Additionally, the Official Rugby World Cup 2021 Ticket Resale program was started on Friday 31 May. It happens a lot of times when somebody who bought the ticket cannot come to watch the match due to any reason so they want to sell their ticket to someone who wants to go. This is where the official ticket resale platform helps them connect to the willing buyers. Rugby fans will be able to buy and sell their rugby world cup 2021 japan tickets through this safe and secure platform. Tickets will be available at face value to buy. If you didn't get a chance to buy a ticket for your favorite match in previous stages, make sure you don't miss it this time.
Tickets Price
Rugby World Cup 2021 Tickets Price depends on the ticket you select so we have divided this into segments:
Bundle Tickets
These tickets are for multiple pool stage matches of rugby world cup 2021. There are 2 types of bundles offered, Stadium Packs & Team Packs. If you live near to any rugby world cup 2021 venue, you can select a Stadium pack to enjoy all rugby matches in that stadium. Similarly, if you want to enjoy all pool matches of your favorite team then you can select the Team pack. Prices of Stadium and Team Packs can be seen here.
These bundle tickets were available in January and February 2018 and are closed now!
Individual Tickets
Rugby world cup 2021 individual tickets are divided into four categories:
Category A
It starts from ¥10,000 and goes up to ¥100,000 depending on the Match.
Category B
It starts from ¥7,000 and goes up to ¥70,000 depending on the Match.
Category C
It starts from ¥4,000 and goes up to ¥45,000 depending on the Match.
Category D
It starts from ¥2,019 and goes up to ¥25,000 depending on the Match.
Child Tickets
Child Tickets for Rugby World Cup 2021 Japan are only available in Category C and D during pool phase. Prices vary from ¥1,000 to ¥5,000 depending on the category and match.
Child under 15 years of age will be eligible for Child Ticket.
The child should be accompanied by an adult parent or guardian.
Children under 2 years of age do not require any ticket if they sit on the laps of parents.
You can see the exact prices of RWC 2021 individual tickets here.
Relevant Links:
Rugby World Cup 2021 Points Table
Rugby World Cup 2021 Pools
Rugby World Cup 2021 Calendar
Rugby World Cup 2021 Teams
Rugby World Cup 2021 Live Streaming