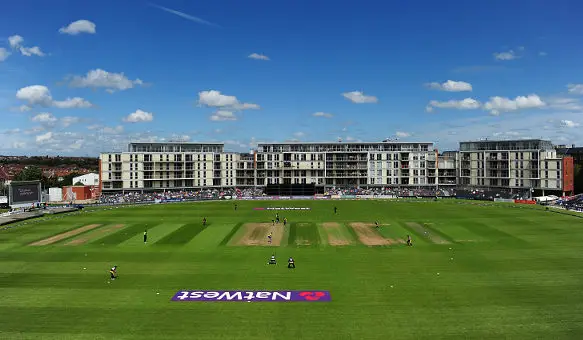 ICC Cricket World Cup 2019 venues list is announced and Bristol County Ground is one of them. According to World Cup 2019 Fixtures, it will be hosting a total of three matches which will be played in Round Robin Fashion. We have summed up some Facts and figures of this Venue, let's check them…
History
Bristol County Ground History is very vast, established in 1889, it is one of the oldest grounds of England. The ground has been the home for Gloucestershire county cricket club for almost 130 years. This ICC cricket world cup 2019 venue had previously hosted both men's and women's cricket world cups. During 1983 cricket world cup, Bristol County Ground had hosted one game while two games during 1999 world cup. Recently, during women's cricket world cup 2017, this venue had hosted eight games including the thriller semi final match between England and South Africa.
Pitch Report
Total of 24 one day international matches have been played here, out of this only 10 matches won by the batting first team while the remaining matches won by bowling first team.
CWC 2019 Matches in Bristol County Ground
Three of icc cricket world cup 2019 fixtures will be played here this time starting on as early as 1st June between Afghanistan and the defending champion, Australia. Second match will be played between Pakistan and Sri Lanka on 7th June followed by the clash between Bangladesh and Sri Lanka on 11th June. The detail of schedule is given below:
How to get there?
If you are planning for the match day at this cricket world cup 2019 venue than be informed that ground is located just 2.5 miles from city centre and there are lot of options to get there. You can use both private and public transport but later one is preferred. The Bristol parkway train station is just 4 miles away from the ground. The Park & Ride shuttles will be available on match days free of cost for ticket holders. The shuttle will start its services from Bristol Parkway train station three hours before match start. Bus service of Bristol is also very excellent, you can also avail this service.
Parking
You can also walk to the ground or drive the bicycle if you are living nearby. If you are driving your car to this icc cricket world cup 2019 ground than parking could be a serious problem. As the venue is located in populated area therefore there will be no parking on match days. Very limited blue badge parking will be available on first come first served basis.
Map/Location
Address of Bristol County is given below:
Bristol County Ground
Nevil Road
Bristol
BS7 9EJ
Bristol County Ground Map
Tickets
Bristol County is hosting a total of 3 matches in this World Cup. You can find ICC Cricket World Cup 2019 Bristol County Ground Tickets Information Here.