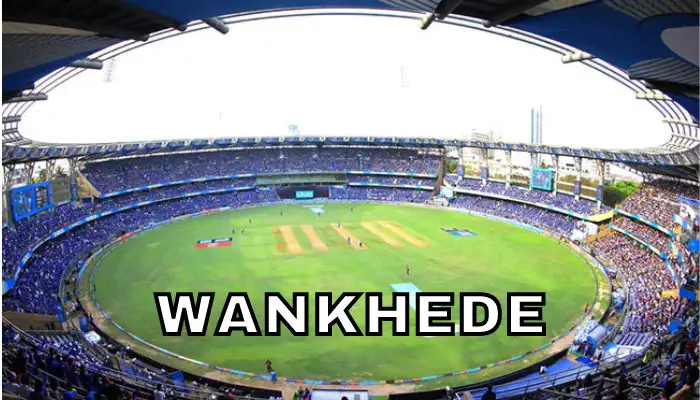 Built In:
1975
Capacity:
33,108
Home Teams:
Mumbai Indians (IPL)
Mumbai Cricket Team
End Names:
Garware Pavilion End
Tata End
First Test:
23–29 January 1975
First ODI:
17 January 1987
First T20I
22 December 2012
History
Wankhede Stadium was built after disputes between CCI which owns the Brabourne Stadium and Mumbai Cricket Association over allocation of tickets. S. K. Wankhede who was secretary of the Bombay Cricket Association at that time started an initiative to build a new stadium in South Mumbai near Churchgate station.
It has suspended cantilever roofs of Teflon fabric which is lighter in weight and has heat resistant capabilities. It is the home ground of Mumbai Indians, Mumbai state Team.
Capacity
Wankhede Stadium's capacity is 33,108 which has been reduced from 45,000 after renovations for the 2011 Cricket World Cup.
Ends & Stands
Garware Pavilion End, Tata End are 2 ends in Wankhede stadium. Wankhede Stadium has 8 stands named after legendary Mumbai cricketers such as Vijay Merchant, Sunil Gavaskar, and Sachin Tendulkar. Here is the list:
Sunil Gavaskar Stand
North Stand
Vijay Merchant Stand
Sachin Tendulkar Stand
MCA Stand
Vitthal Divecha Stand
Garware Stand
Grand Stand
Pitch Report
Wankhede Stadium gives swing bowlers early assistance each day due to the ground being very close to the sea. The pitch is usually full of runs however but on days four and five of a test, the pitch does tend to break up a fair bit which in turn offers great assistance to spinners.
Records & Notable Events
This stadium staged 1st test in 1975 vs West Indies, 1st ODI in 1987 vs Sri Lanka, and 1st T20 in 2012 vs England. It has hosted several high-profile cricket matches in the past. I have listed some moments:
2011 Cricket World Cup Final
This is one of the most iconic moments for every Indian as India won against Sri Lanka in the world cup final on 2nd April 2011. India became 1st home team to win the world cup.
MS Dhoni was announced Man of the Match for his crucial 91 runs.
Sachin Tendulkar Farewell Match
The stadium also witnessed the last match of Sachin Tendulkar's international career. Sachin Tendulkar played his 200th and last test match in his home ground when he decided to hang his boots.
He gave an emotional speech after the match which made the whole cricket fraternity.
Ravi Shastri Six Sixes
Ravi Shastri hit six sixes in an over off Baroda's Tilak Raj in Ranji Trophy and completed the fastest double-hundred in first-class cricket in 1984–85. His unbeaten 200 in 113 minutes off 123 balls with 13 fours and 13 sixes at this ground is the fastest double century in first-class cricket since the 2017-18 season when Shafiqullah Shafaq scored a double century in 89 balls.
More Facts:
India faced the West Indies in the first match at the Wankhede Stadium in January 1975.
Sunil Gavaskar set the stadium record for the highest score by an Indian batsman, by scoring 205 runs during the 1978/1979 series against the West Indies. Alvin Kallicharran scored 187 for the West Indies in the same match.
In 1980 Ian Botham took 13 wickets and scored a century during the course of the Jubilee Test against India at the Wankhede Stadium.
Map/Location
Here is the complete address of Wankhede Stadium:
Vinoo Mankad Rd, Churchgate
Mumbai, Maharashtra
400020