Japan Beats Russia
Japan vs Russia
| | | |
| --- | --- | --- |
| Japan (30) | | Russia (10) |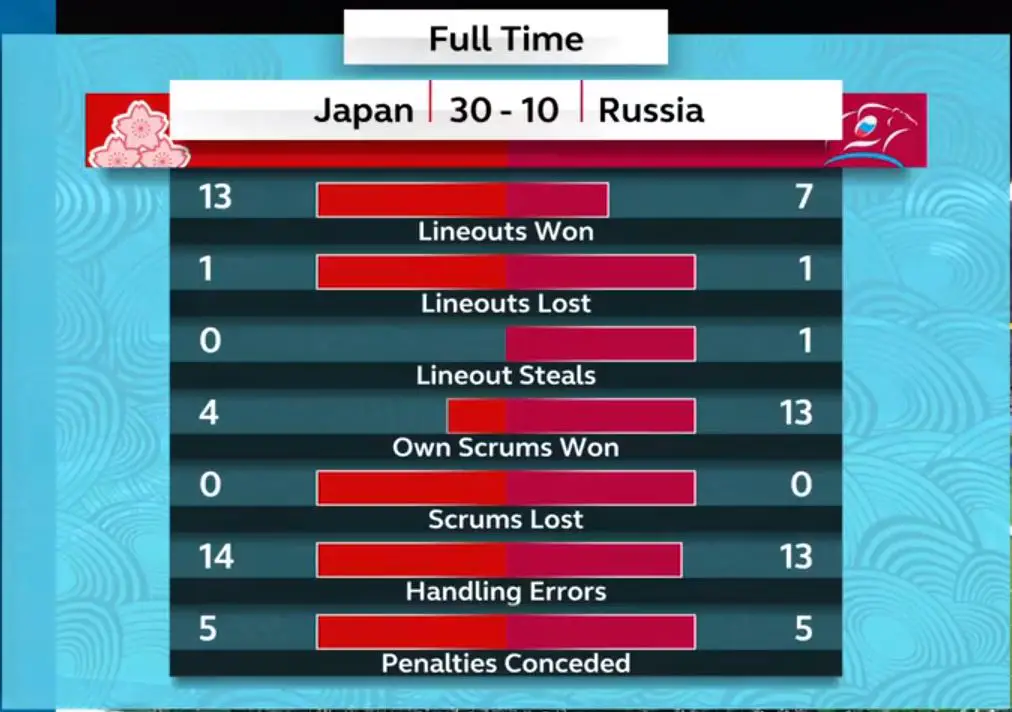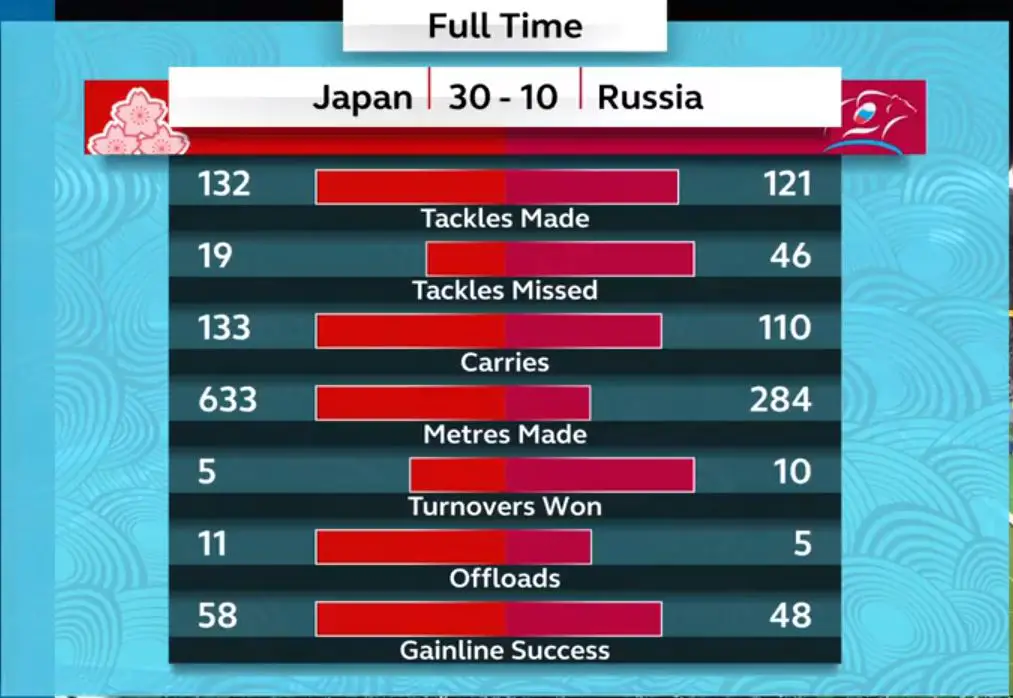 Watch RWC 2022 Japan vs Russia Match Highlights
---
---
Japan, host of Rugby World Cup 2022 will be facing Russia in their first match. This is also the opening match of RWC 2022 which will be played in Tokyo Stadium also known as Ajinomoto Stadium. Some important details of this match are given below:
Details
| Date | Time | Tournament | Season |
| --- | --- | --- | --- |
| September 20, 2022 | 19:45 (Local) | Rugby World Cup | 2022 |
Rugby world cup like much other game's world cups happens after every 4 years. Last time it was played in England and just like 2011, New Zealand won the 2015 rugby world cup as well. Russia was not able to qualify for the 2015 world cup but they are back now.
This match is going to set the pace of this tournament as this is the first time this event is happening in any Asian country and Japan is the one which is hosting it and host country itself will be playing the opening match of rugby world cup 2022. A large number of rugby fans are expected to watch this match in stadium and thousands of people will be looking for Japan vs Russia Live streaming to watch the opening match live on their mobile or Computer Screens.
Considering the huge demand for Live streaming we have provided you the best source to watch Japan vs Russia Rugby Live Streaming in HD.
Squads
Rugby World Cup 2022 Japan vs Russia Teams Squads are given below:
Head Coach: Jamie Joseph
Captain: Michael Leitch
World Cup Debut: Flanker Kazuki Himeno
Forwards
| | |
| --- | --- |
| Keita Inagaki | Yusuke Kizu |
| Jiwon Koo | Isileli Nakajima |
| Asaeli Ai Valu | Takuya Kitade |
| Atsushi Sakate | Shota Horie |
| Luke Thompson | Wimpie van der Walt |
| Uwe Helu | James Moore |
| Hendrik Tui | Yoshitaka Tokunaga |
| Michael Leitch | Pieter Labuschagne |
| Kazuki Himeno | Amanaki Lelei Mafi |
Backs
| | |
| --- | --- |
| Kaito Shigeno | Fumiaki Tanaka |
| Yutaka Nagare | Yu Tamura |
| Rikiya Matsuda | Kenki Fukuoka |
| Ataata Moeakiola | Lomano Lava Lemeki |
| William Tupou | Ryoto Nakamura |
| Timothy Lafaele | Kotaro Matsushima |
| Ryohei Yamanaka | |
Head Coach: Lyn Jones
Captain: Vasily Artemyev
Forwards
| | |
| --- | --- |
| Azamat Bitiev | Andrey Garbuzov |
| Kirill Gotovtsev | Victor Gresev |
| Bogdan Fedotko | Vitaliy Zhivatov |
| Evgeny Matveev | Andrey Polivalov |
| Vladimir Podrezov | Evgeny Yelgin |
| Stanislav Selsky | Nikita Vavilin |
| Sergey Chernyshev | Tagir Gadzhiev |
| Roman Khodin | Andrei Ostrikov |
| Valery Morozov | Anton Sychev |
Backs
| | |
| --- | --- |
| Vasily Artemyev | Igor Galinovsky |
| Kirill Golosnitsky | Vasily Dorofeev |
| Yuri Kushnarev | German Davydov |
| Dmitry Perov | Vladislav Sozonov |
| Dmitry Gerasimov | Ramil Gaysin |
| Denis Simplikevich | Vladimir Ostroushko |
| Sergey Yanyushkin | |
Venue:
RWC 2022 Japan vs Russia venue is Tokyo Stadium also known as Ajinomoto Stadium. You can find the Tokyo Stadium map below: