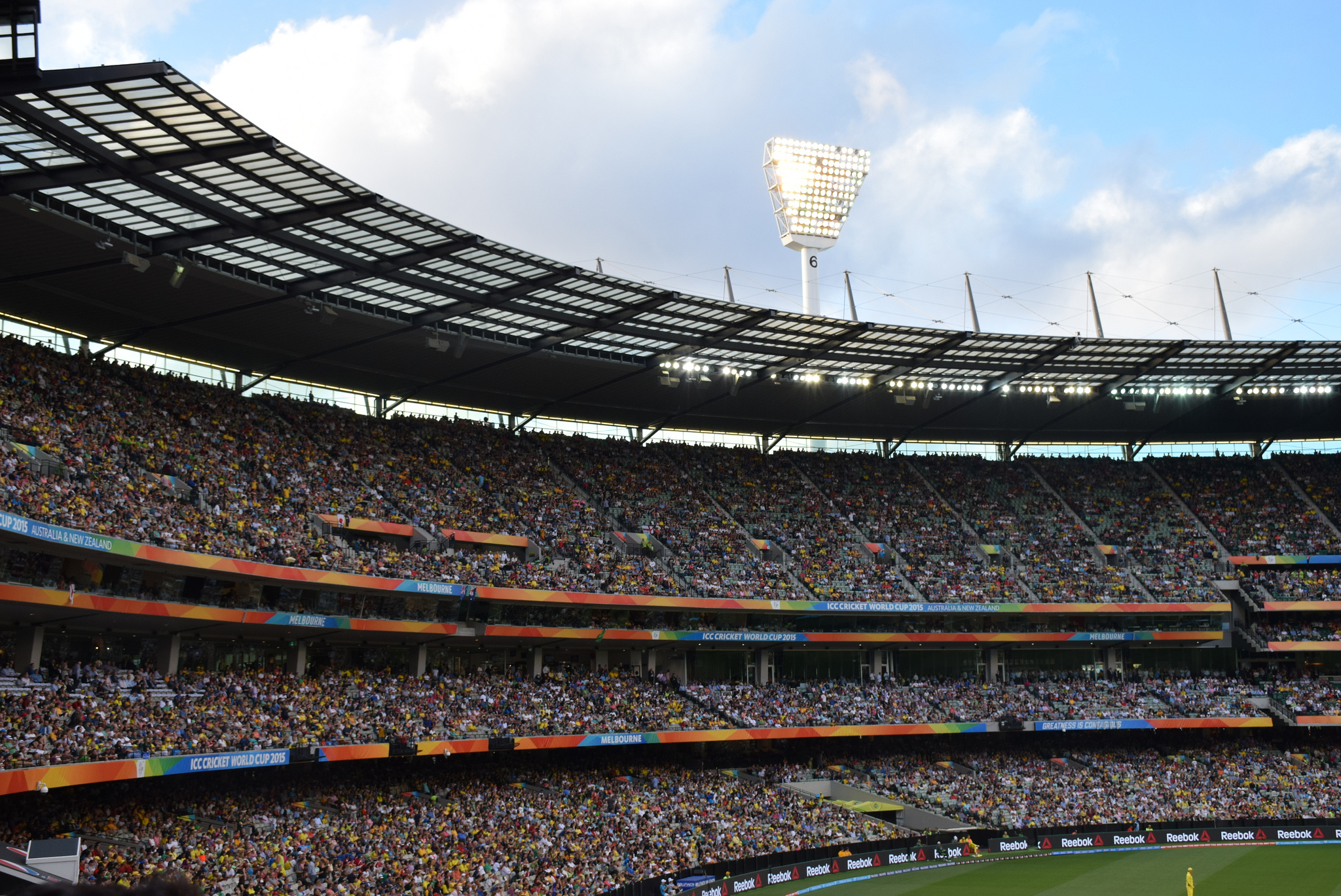 Get ICC Cricket World Cup 2019 Schedule, Fixtures, Timetable, Venue, and online tickets. See the latest, updated schedule and timetable of Cricket World Cup 2019. Here is the new season of the ICC World Cup, this is the 12th edition of the Cricket World Cup where last World Cup in 2015 was won by Australia against New Zealand. Cricket world cup 2019 time table is announced already and the fans are waiting for the online tickets and venue details. But don't worry we have got you covered for all your queries and concerns.
International cricket council has confirmed that the full schedule of matches will be starting on Thursday. The first match of Cricket World Cup 2019 will be played on Thursday, May 30, 2019. It will continue till Sunday, July 14, 2019, where the final match will be played between the qualified teams. ICC World Cup is the most distinguished, famous and respected cup a team can hold.
As per ICC Cricket World Cup 2019 programme, the first Match will be played between England and South Africa on May 30. England will start tournament at Oval (an international cricket ground in Kennington, south London). Oval was first ground to host International Test cricket and is also famous for many other matches being played there. The first match will be played at 2:30 PM.
Cricket World Cup 2019 Format:
The ICC Cricket World Cup 2019 fixtures consists of 48 ODIs, The World Cup will have 48 matches in total, of which 45 will make up to group stage. The cricket council has decided to go with 10 team format to avoid problems as faced in 1999 where the matches were stretched due to super six event.
Each individual team will play 9 group stage matches, in Round Robin fashion and the top 4 will progress to the semifinals, similar to the 1992 World Cup. The round robin one of the scheme in which each team gets to play equal number of matches in circular order. The round robin format is quite good as each team will have equal many matches to play and secure their positions for semifinals and then finals afterword.
This world cup is going to be memorable for sure because many rules and formats have changed and this will definitely bring a revolution in the ICC World Cup series.
The hype of world cup is rising up more as the time is coming near. Each cricket fan is filled with much excitement and is looking for Complete Schedule to enjoy these thrilling games. So we have provided you the Schedule in .JPG Image and also in PDF format to download it easily.
ICC Cricket World Cup 2019 Schedule
ICC Cricket World Cup 2019 Schedule PDF Download:
Here is the Complete PDF file for All Matches Schedule:
ICC Cricket World Cup 2019 Schedule Image Download: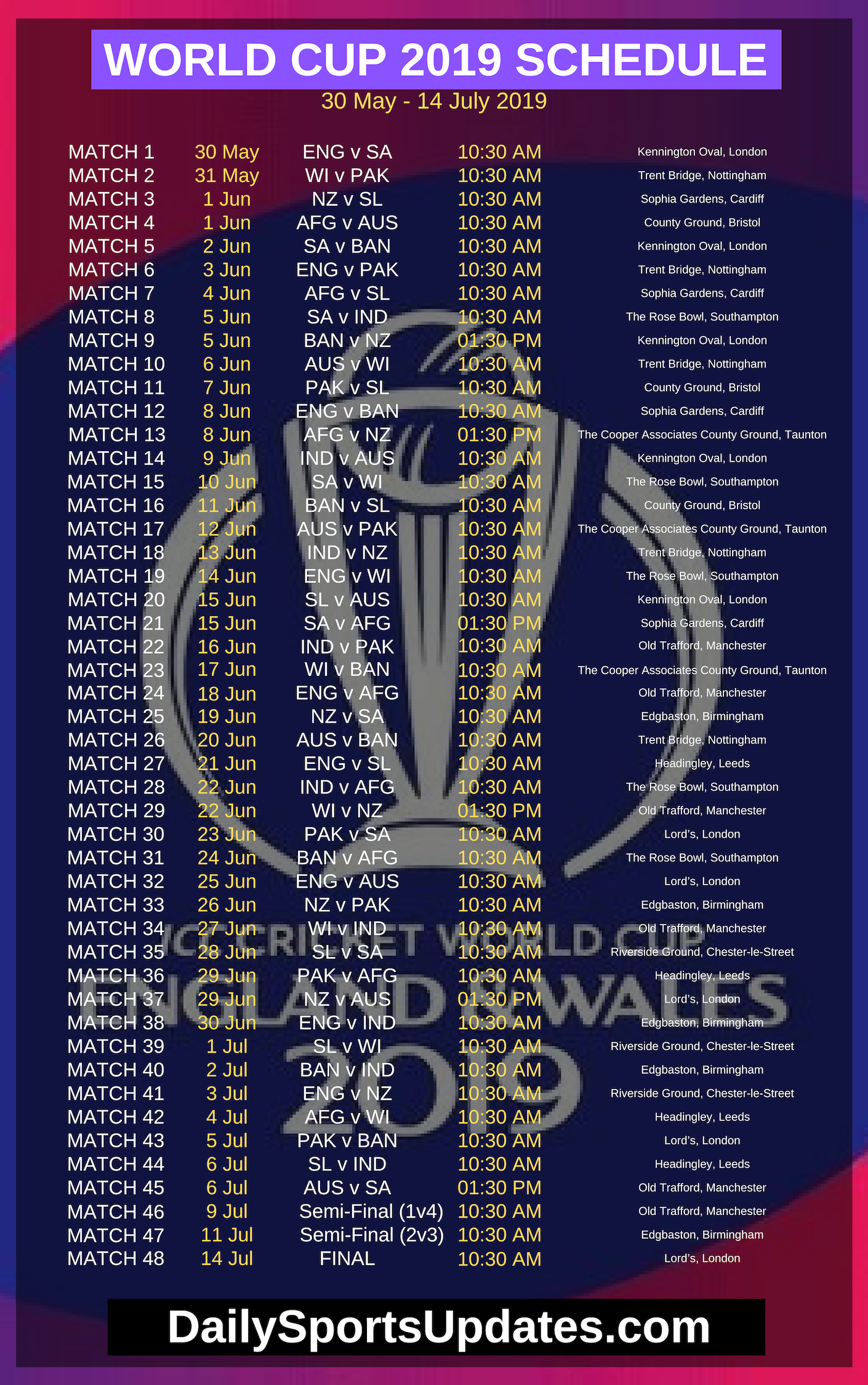 ICC Cricket World Cup 2019 Plan:
| Match No. | Date / Day | Teams | Time (LOCAL) | Venue |
| --- | --- | --- | --- | --- |
| 1 | May 30 Thursday | England vs South Africa | 10:30 AM | Kennington Oval, London |
| 2 | May 31 Friday | Windies vs Pakistan | 10:30 AM | Trent Bridge, Nottingham |
| 3 | Jun 01 Saturday | New Zealand vs Sri Lanka | 10:30 AM | |
| 4 | Jun 01 Saturday | Afghanistan vs Australia | 01:30 PM | County Ground, Bristol |
| 5 | Jun 02 Sunday | South Africa vs Bangladesh | 10:30 AM | Kennington Oval, London |
| 6 | Jun 03 Monday | England vs Pakistan | 10:30 AM | Trent Bridge, Nottingham |
| 7 | Jun 04 Tuesday | Afghanistan vs Sri Lanka | 10:30 AM | |
| 8 | Jun 05 Wednesday | South Africa vs India | 10:30 AM | The Rose Bowl, Southampton |
| 9 | Jun 05 Wednesday | Bangladesh vs New Zealand | 01:30 PM | Kennington Oval, London |
| 10 | Jun 06 Thursday | Australia vs Windies | 10:30 AM | Trent Bridge, Nottingham |
| 11 | Jun 07 Friday | Pakistan vs Sri Lanka | 10:30 AM | County Ground, Bristol |
| 12 | Jun 08 Saturday | England vs Bangladesh | 10:30 AM | Sophia Gardens, Cardiff |
| 13 | Jun 08 Saturday | Afghanistan vs New Zealand | 01:30 PM | The Cooper Associates County Ground, Taunton |
| 14 | Jun 09 Sunday | India vs Australia | 10:30 AM | Kennington Oval, London |
| 15 | Jun 10 Monday | South Africa vs Windies | 10:30 AM | The Rose Bowl, Southampton |
| 16 | Jun 11 Tuesday | Bangladesh vs Sri Lanka | 10:30 AM | County Ground, Bristol |
| 17 | Jun 12 Wednesday | Australia vs Pakistan | 10:30 AM | The Cooper Associates County Ground, Taunton |
| 18 | Jun 13 Thursday | India vs New Zealand | 10:30 AM | Trent Bridge, Nottingham |
| 19 | Jun 14 Friday | England vs Windies | 10:30 AM | The Rose Bowl, Southampton |
| 20 | Jun 15 Saturday | Sri Lanka vs Australia | 10:30 AM | Kennington Oval, London |
| 21 |  Jun 15 Saturday | South Africa vs Afghanistan | 01:30 PM | Sophia Gardens, Cardiff |
| 22 | Jun 16 Sunday | India vs Pakistan | 10:30 AM | Old Trafford, Manchester |
| 23 | Jun 17 Monday | Windies vs Bangladesh | 10:30 AM | The Cooper Associates County Ground, Taunton |
| 24 | Jun 18 Tuesday | England vs Afghanistan | 10:30 AM | Old Trafford, Manchester |
| 25 | Jun 19 Wednesday | New Zealand vs South Africa | 10:30 AM | Edgbaston, Birmingham |
| 26 | Jun 20 Thursday | Australia vs Bangladesh | 10:30 AM | Trent Bridge, Nottingham |
| 27 | Jun 21 Friday | England vs Sri Lanka | 10:30 AM | Headingley, Leeds |
| 28 | Jun 22 Saturday | India vs Afghanistan | 10:30 AM | The Rose Bowl, Southampton |
| 29 |  Jun 22 Saturday | Windies vs New Zealand | 01:30 PM | Old Trafford, Manchester |
| 30 | Jun 23 Sunday | Pakistan vs South Africa | 10:30 AM | Lord's, London |
| 31 | Jun 24 Monday | Bangladesh vs Afghanistan | 10:30 AM | The Rose Bowl, Southampton |
| 32 | Jun 25 Tuesday | England vs Australia | 10:30 AM | Lord's, London |
| 33 | Jun 26 Wednesday | New Zealand vs Pakistan | 10:30 AM | Edgbaston, Birmingham |
| 34 | Jun 27 Thursday | Windies vs India | 10:30 AM | Old Trafford, Manchester |
| 35 | Jun 28 Friday | Sri Lanka vs South Africa | 10:30 AM | Riverside Ground, Chester-le-Street |
| 36 | Jun 29 Saturday | Pakistan vs Afghanistan | 10:30 AM | Headingley, Leeds |
| 37 | Jun 29 Saturday | New Zealand vs Australia | 01:30 PM | Lord's, London |
| 38 | Jun 30 Sunday | England vs India | 10:30 AM | Edgbaston, Birmingham |
| 39 | Jul 01 Monday | Sri Lanka vs Windies | 10:30 AM | Riverside Ground, Chester-le-Street |
| 40 | Jul 02 Tuesday | Bangladesh vs India | 10:30 AM | Edgbaston, Birmingham |
| 41 | Jul 03 Wednesday | England vs New Zealand | 10:30 AM | Riverside Ground, Chester-le-Street |
| 42 | Jul 04 Thursday | Afghanistan vs Windies | 10:30 AM | Headingley, Leeds |
| 43 | Jul 05 Friday | Pakistan vs Bangladesh | 10:30 AM | Lord's, London |
| 44 | Jul 06 Saturday | Sri Lanka vs India | 10:30 AM | Headingley, Leeds |
| 45 |  Jul 06 Saturday | Australia vs South Africa | 01:30 PM | Old Trafford, Manchester |
| 46 | Jul 09 Tuesday | India vs New Zealand (Semi-Final) | 10:30 AM | Old Trafford, Manchester |
| 47 | Jul 11 Thursday | Australia vs England (Semi-Final) | 10:30 AM | Edgbaston, Birmingham |
| 48 | Jul 14 Sunday | New Zealand vs England (Final) | 10:30 AM | Lord's, London |
Frequently Asked Questions
[sp_easyaccordion id="1687″]